Resin key holders by Japanese lowbrow sculpture artist, Chop of Monster Farm. His iconic Frankenstein is now available as mini sized key holder.
(L):Shoking Pink, (R):Light Pink
H:3cm(1.2")

[Customers Overseas]
Please press "add to cart" below and complete placing your order.
Shipping&Handling fee not included.
You can check S&H for each item to scroll down the item page.
You can pay by "Credit Card" or "PayPal".
Here is a link of Currency Converter, this is just for your reference.
Payment must be made in Yen.
Please refer to this page.
■ 商品説明
ホットロッドカルチャー好きでその名を知らない人はいないスカルプチャーアーティスト、Monster FarmのChop氏のレジン製キーホルダー。その独特の世界観が落とし込まれた小さなキーホルダーたちはまさにロウブロウアート。こちらはFranken。個人的にChopさんといえばフランケン作品なイメージ。
■ 商品仕様
| | |
| --- | --- |
| 製品名 | Monster Farm/Chop Franken resin key holder |
| 型番 | 17071 |
| メーカー | Monster Farm |



[国内送料]
全国一律700円
(沖縄、一部離島は中継料が発生します)
[手数料]
代引き:300円
銀行振込:お客様負担
Pay Pal:送料含むトータル金額の5%
クレジットカード:なし




[For International Buyers]
We would ship this item worldwide by EMS.
The shipping and handling fee for this item to overseas(1-10pcs) is 1800yen(Asia),2500yen.(North/Central America, Europe,Oceania), 3400yen(South America, Africa)

Resin key holders by Japanese lowbrow sculpture artist, Chop of Monster Farm. His iconic Frankenstein is now available as mini sized key holder.
(L):Shoking Pink, (R):Light Pink
H:3cm(1.2")

[How to order]
Please add to the cart from the button below and make payment.
Once confirmed payment, we would ship by EMS.

For any inquiry about this product, please e-mail to info@blackbooktoy.com

[Artist Profile]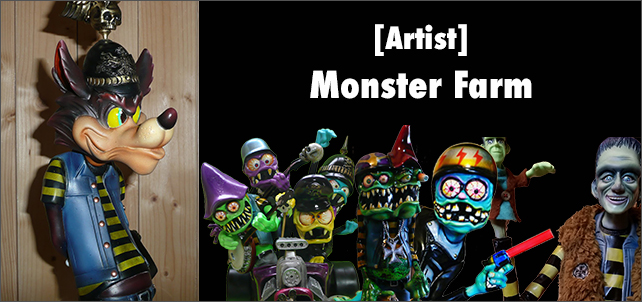 ホットロッドカルチャー好きならその名を知らぬ人はいないスカルプチャーアーティスト。BBTでもEVIL MC本体や付属品の原型、カスタム等製作頂いています。

[アーティストHP]
Monster FarmオフィシャルHP